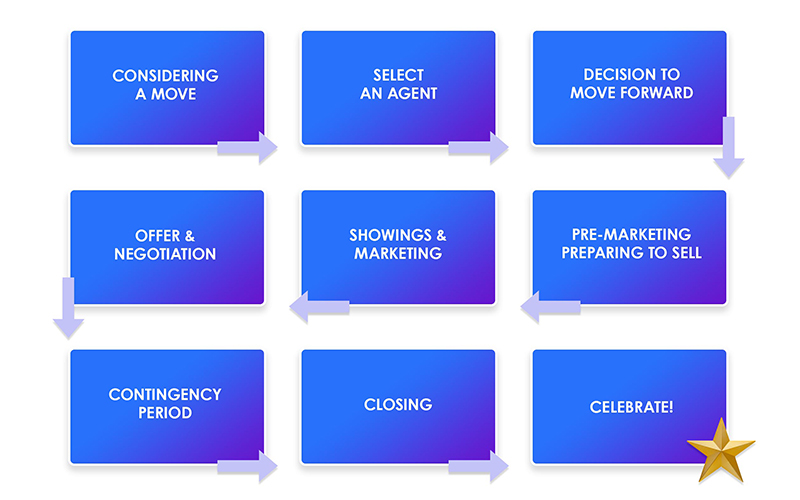 VARIABLES THAT AFFECT YOUR HOME SALES PROCESS
A. LOCATION– you can't move your home!B. MARKET CONDITIONS
The Broad View
Mortgage rates
Consumer confidence
The Local View
Inventory/Sales pace
Property Taxes and Local Outlook
Other factors
C. CONDITION OF PROPERTY
Preparing your Home to Sell

If you live in an older home, we may recommend a pre-inspection, so that you can take care of any major issues ahead of time or disclose them to potential buyers.

Homes that need major repairs receive lower offers to begin with. During inspections, buyers will often try to renegotiate the sale price based on repairs found. We believe in keeping our sellers in the driver's seat and as we see buyer inspection contingencies being dragged out and working against the sellers. Think of this as "preventive medicine". This strategy, while not foolproof, has saved time, money, and headache for our sellers, while giving the buyers piece of mind that they are getting a good house.

At our consultation, we will discuss whether or not this is a good option for you.
Should you sell "as is?"

If your home is potentially a teardown or needs many repairs, it may be a candidate for an as-is condition sale, where staging would not be a good investment. We can help advise you once we see your home as this is really on a case-by-case basis.
Decluttering

When you list your home for sale you want to create an environment where buyers can envision themselves creating years of memories just as you have. Having lived in a home for 20+ years, I know firsthand how years of accumulating special belongings can feel overwhelming in approaching a home sale. As such, we have some of the best organizers, stagers and contractors in the area who assist our clients in decluttering, packing, storing, donating, and estate sales. The process might seem daunting at first, but once our clients see the team in action, it's common to hear them describe it as "freeing"
Preparing your Home to Sell Guide
According to a National Association of Realtors survey, homes that sold after four weeks on the market sold for 6% less than ones that sold in the first four weeks. Only 10% of home buyers can visualize the potential of a home online. A staged home evokes an emotional connection, creates more interest and therefore sells faster and for more money. Staging/Cosmetic Improvements are an investment, typically costing between $2,000 and $15,000+ depending on whether furniture needs to be rented, wall paper needs to come down, etc. Weigh this with many additional months on the market and lowering your price 5-10% and it should become a no-brainer.
D. PRICING
E. YOUR TEAM
BW – The Brokerage (same page as elsewhere)

Local
Global
Committed to Community

Anne Rossley – 
The ARRE Team

Laradeth Renacido
Jessica Tamburello
Halethia Jones
Monique Jimmar
Hailey Peterbok
Rochelle Sneed
Teresa Neal

Valuable Assets

Key Mortgage
Land Title – Baird & Warner
Attorneys
Inspectors
Stagers
Painters
Handymen/Repairmen
And More!
F. MARKETING SUCCESS STRATEGY
Getting it Right from the Beginning – Details!
Visual – 
Photography
Videos
Special Effects
Matterport 3D walk through
Floor Plans
Collateral Materials
Brochures
Flyers
Highlight Sheets
Digital
Your own Web Page, QR code, and bitlink
Online Advertising
Social Media Campaigns
Realtor Marketing
Public/Client Outreach
Email Marketing Campaign
Direct Mail
Mega Open Houses
Luxury Homes
Historic Homes
GLOBAL Networking through Leading Real Estate Companies of the World
Lifestyle Marketing