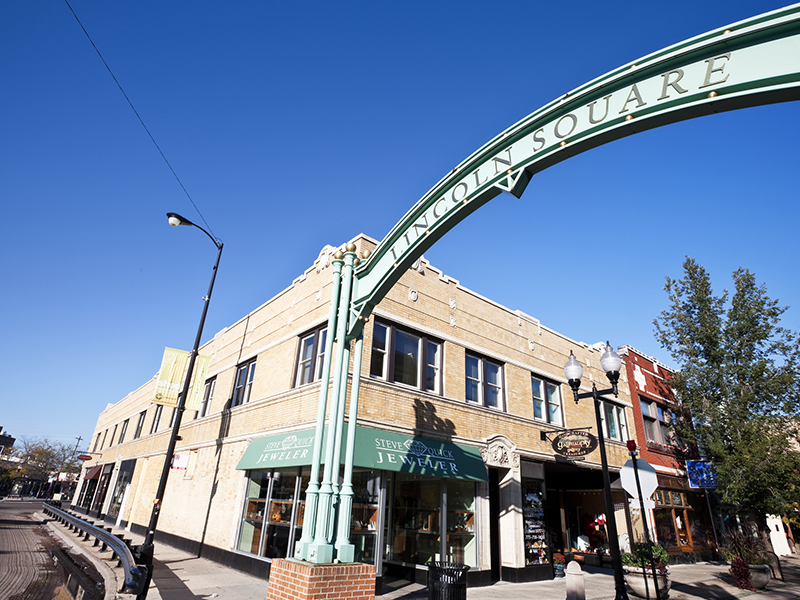 Many locals and visitors think of Lincoln Square as a small Chicago neighborhood, but it actually encompasses a large area that includes Ravenswood, Budlong Woods, Bowmanville, and part of Ravenswood Manor. As soon as you set foot on Lincoln Square, you'll immediately be taken by its Old World European charm. But as you stay longer, you'll learn that this is only one of the many fantastic things about this multifaceted community.
What to love
Rich Bavarian culture

If you love schnitzels, bratwursts, and Oktoberfest, you'll feel right at home in Lincoln Square. The neighborhood's rich German heritage can be felt to this day with Old World influenced businesses such as Merz Apothecary, a pharmacy established in 1875; Gene's Sausage Shop & Delicatessen, which was founded in 1972 by two immigrant brothers from Poland; and Lutz Cafe & Bakery, a konditorei (German for confectionary) first opened in 1948. Each year, the Lincoln Square community celebrates its German roots with events like the Square Roots Festival, Maifest Chicago, and the German-American Oktoberfest.

Lincoln Avenue and Giddings Plaza

In Lincoln Square, all roads lead to Lincoln Avenue, the neighborhood's main commercial district. Lincoln Avenue was renovated in the 1970s, widening the sidewalks to accommodate more foot and bicycle traffic while leaving only a single lane for vehicles to minimize car traffic. Today the thoroughfare is lined by historic and newer buildings housing an amazing array of shops, restaurants, and services. You'll also find Giddings Plaza here – the venue for the community's top festivals, as well as events like the summer concert series and holiday tree lighting ceremony.

Old Town School of Folk Music

This iconic institution offers music, theater, dance, and visual art courses rooted in the folk traditions of various places around the world. The school also stages year round concerts and performances by local and international folk artists. Opened in 1957 in an Oak Park residence, it moved to its present location at Lincoln Avenue in 2012.
Real estate snapshot
In January, 2023, Lincoln Square was a balanced market with most homes sold at or above their listing prices. The median listing price was $475,000 and the average days on market was 66 days. There's a good mix of single-family homes and condos, including historic and new construction luxury homes in the million-dollar range.
Learn more about Lincoln Square and your real estate options here. Call top Chicago Realtor Ann Rossley today at 773.620.5333 or send an email here.

Sorry we are experiencing system issues. Please try again.