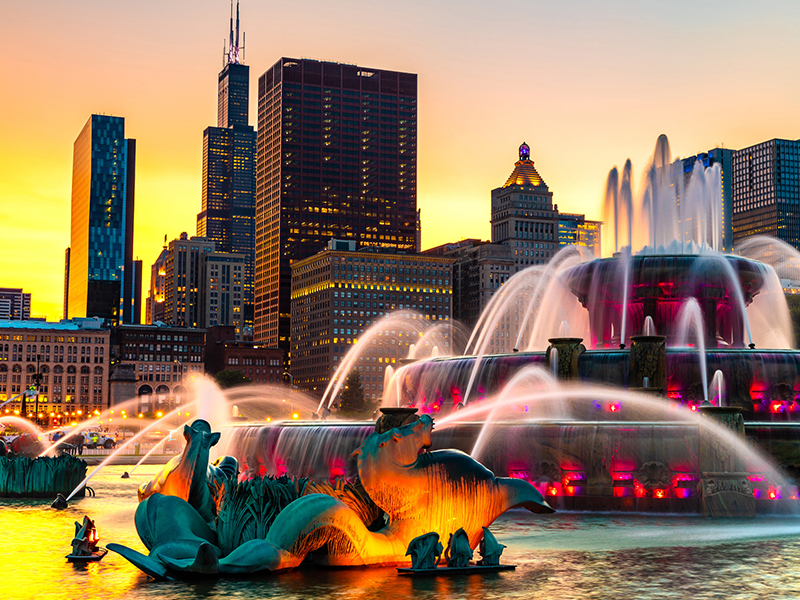 Chicago is made up of 77 dynamic neighborhoods. At the pinnacle is the Loop, Windy City's bustling commercial and cultural core. High-octane and flanked by two bodies of water (Chicago River and Lake Michigan), there is nowhere for the Loop to go but up. Towering high-rises dot the neighborhood, showcasing the Loop's rich architectural heritage. On the ground, lush green parks and modern artistic expressions line the lakefront.
What to love
Efficient public transportation

If you're venturing out of the Loop, non-stop public transit will take you just about anywhere. In fact, the neighborhood is so named because of the networks that surround it. That includes Metra Electric District, which connects the Loop to the southern suburbs, and the Chicago "L". with the Loop served by both Blue and Red lines.

Arts and stage productions

The Loop is almost synonymous to musical theater productions and other performance art. Homegrown and international talent join legendary organizations such as Ballet 5:8, the Chicago Symphony Orchestra, and the Lyric Opera of Chicago, which are all based in the neighborhood. Equally iconic performing venues are also scattered throughout the Loop, including the Auditorium Theatre, Harris Theater for Music and Dance, and the Chicago Theatre

Exciting regional events

Every season brings something to look forward to in the Loop. Summertime is for outdoor festivals such as Taste of Chicago, Grant Park Music Festival, and Lollapalooza, all of which are held at Grant Park. Every October, endurance athletes gather for the Chicago Marathon, one of the six World Marathon Majors. When the holiday season rolls in, everybody goes to Christkindlmarket, where you can enjoy hot cups of spiced wine and other German Christmas treats.
Real estate snapshot
Residential high-rises make the majority of housing options in the Loop. These range from older, more established apartments and skyscrapers to sleek new construction. The median listing price of these properties as of the time of writing is $412,000, spending at least 75 days on the market.
Learn more about Loop and your real estate options here. Call top Chicago Realtor Ann Rossley today at 773.620.5333 or send an email here.

Sorry we are experiencing system issues. Please try again.