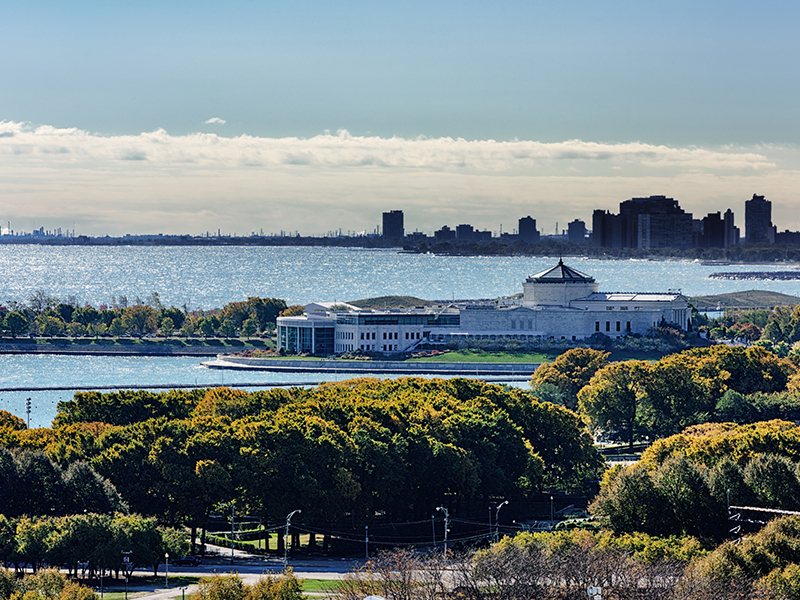 Throughout its history, the Near South Side area has undergone many changes. From a humble Native American settlement, it's now one of Chicago's fastest growing neighborhoods. The Loop's sophistication spills over the Near South Side and its several enclaves, which include a portion of South Loop, Central Station, and Motor Row District.
What to love
The cultural spaces

The Near South Side is home to the 57-acre Museum Campus. Opened to the public in 1988, it's home to some of Chicago's biggest attractions. Adler Planetarium, the first planetarium in the country, sits on the northeasternmost corner of the neighborhood. Located nearby is The Field Museum of Natural History, one of the largest museums of its kind in the world. A short walk away is Shedd Aquarium, which attracts two million visitors every year.

Trendy restaurants and bars

South Loop in the north section of the Near South Side is Chicago's culinary hub. Apolonia is one of the local stars— a chic space for Mediterranean cuisine and cocktails. Not far is the Chicago Firehouse Restaurant, best known for their steaks and historic building. For a taste of Polish-American fare, people head to Flo & Santos. And for special night-outs, Lips Drag Queen Show Palace, Restaurant, & Bar offer standout performances alongside amazing meals

History everywhere

Learn more about the Near South Side's history through its collection of National Historic Landmarks and other historically significant sites. Adler Planetarium is one, and so is The Field Museum. Soldier Field, another Museum Campus attraction, is a multi-sport stadium that has played host to several important events since it opened in 1924. Glessner House, a Gilded Age-era mansion and National Historic Landmark, made an imprint on visionaries such as Frank Lloyd Wright and Mies van der Rohe.
Real estate snapshot
The median listing price in the Near South Side hovers around $410,000. The housing market largely consists of loft conversions, contemporary new construction, and apartments. In the South Loop area, townhomes and single-family residences can be found. Properties for sale in the Near South Side usually spend an average of 98 days on the market.
Learn more about Near South Side and your real estate options here. Call top Chicago Realtor Ann Rossley today at 773.620.5333 or send an email here.

Sorry we are experiencing system issues. Please try again.