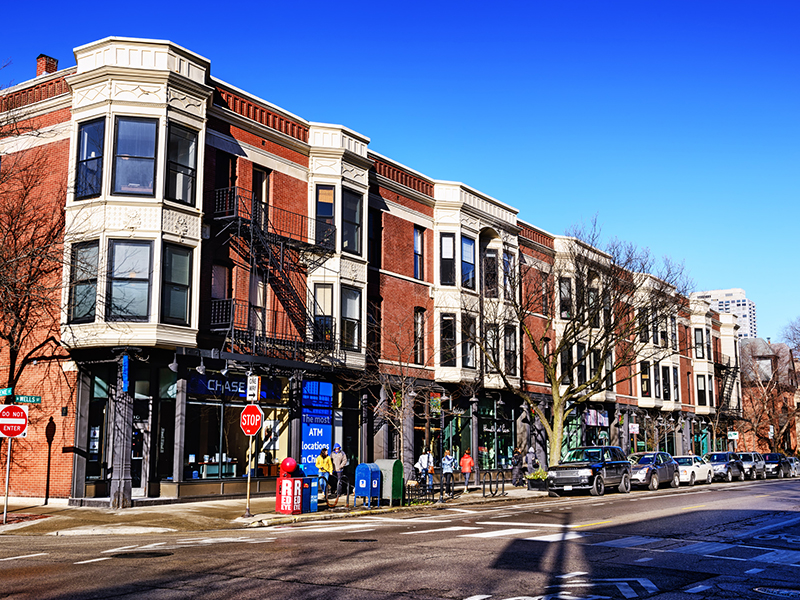 As you can probably tell from its name, Old Town has a long and colorful history that continues to define the neighborhood today. The boundaries of Old Town are a subject of debate, but one thing is certain – its distinct charm and character, along with a convenient location just 3 miles north of The Loop, make it one of Chicago's most sought after neighborhoods.
What to love
Historical landmarks

Together with the brownstones that dominated the cityscape following the Great Chicago Fire of 1871, Old Town boasts a wealth of beautiful historic landmarks. These include St. Michael in Old Town, a Catholic parish church originally built in 1869 and restored in 1873 after parts of it were destroyed in the great fire. Also significant is the 1920s home of Henry Gerber, the founder of America's first gay rights group, the Society for Human Rights. History buffs must also not miss a tour of Old Town Triangle, which served as an artists colony after the fire, as well as the Midwest Buddhist Temple, built in 1944 to accommodate immigrants from other parts of the Midwest

Old Town Art Fair

This decades-old juried arts fair was first held in 1950 and has since become one of the biggest art fairs in the country. Each year, the event draws in around 300 participants and thousands of guests and spectators from around the world. In addition to artists' exhibits, the art fair also features numerous food booths and live music.

Amazing local finds

Old Town's local gems include The Fudge Pot, a handmade candy shop opened in 1963; The House of Gluntz, Chicago's oldest wine retailer opened in 1888; and The Old Town Ale House, a dive bar near Second City that was raved about by Anthony Bourdain, Roger Ebert, Sean Parnell, and just about anyone who has visited it.
Real estate snapshot
Now is a good time to buy a home in Old Town. The neighborhood was a buyer's market in January, 2023, with a median listing price of $572,500 and average days on market of 64 days. Condos dominate the market, found in a good mix of vintage properties and newer developments.
Learn more about Old Town and your real estate options here. Call top Chicago Realtor Ann Rossley today at 773.620.5333 or send an email here.

Sorry we are experiencing system issues. Please try again.