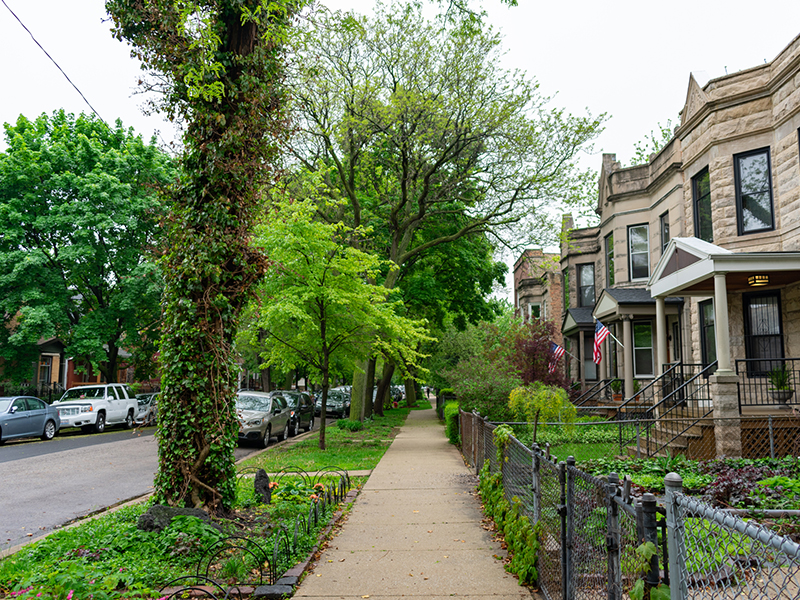 The community of Logan Square is centered around its namesake public square found at the intersection of Milwaukee Avenue, Kedzie Boulevard, and Logan Boulevard. In recent years, this historic neighborhood has gained tremendous popularity as a hip Chicago destination, thanks to a burgeoning restaurant scene, rich culture, lively nightlife, and creative energy.
What to love
Restaurant rows

Logan Square has become a major foodie destination in Chicago with its growing list of highly diverse and eclectic restaurants. Whatever you're craving at the moment, Logan Square has something for you. A culinary adventure in the neighborhood always starts at Lula Cafe, a pioneer in the farm to table trend now sweeping the country. Other must-visits include Parson's Chicken & Fish, where you can enjoy simple, sumptuous dishes in a parklike outdoor setting; Lardon, with its exquisite charcuterie boards of artisanal meats; and Mi Tocaya Antojeria, which serves authentic Mexican fare using fresh farm to table ingredients.

Amazing nightlife

With numerous bars, breweries, clubs, and other nightspots, Logan Square is as alive at night as it is in the day. If you like live music and the arts, you must not miss The Whistler, a combined live music venue, art gallery, bar, and record label. For craft whiskey, check out Chicago Distilling Company. If you're a film buff, head to the historic Logan Theatre and enjoy a cocktail or two at their in-house bar right before your show.

Wolfbait & B-Girls

This artisan marketplace houses the shops of over 300 local craft artists and several women-owned and fair trade businesses. Find unique apparel and accessory brands, as well as gift and art items created by local talents, or attend any of the workshops and events hosted by the marketplace throughout the year.
Real estate snapshot
With the supply of homes matching the demand, Logan Square is a balanced market as of January, 2023. Homes stay on the market for an average of 55 days, with a median listing price of $323,000. Condos outnumber other property types, but there are also a significant number of single-family and multi-family homes, as well as a good mix of repurposed historic brownstones and new construction properties.
Learn more about Logan Square and your real estate options here. Call top Chicago Realtor Ann Rossley today at 773.620.5333 or send an email here.

Sorry we are experiencing system issues. Please try again.