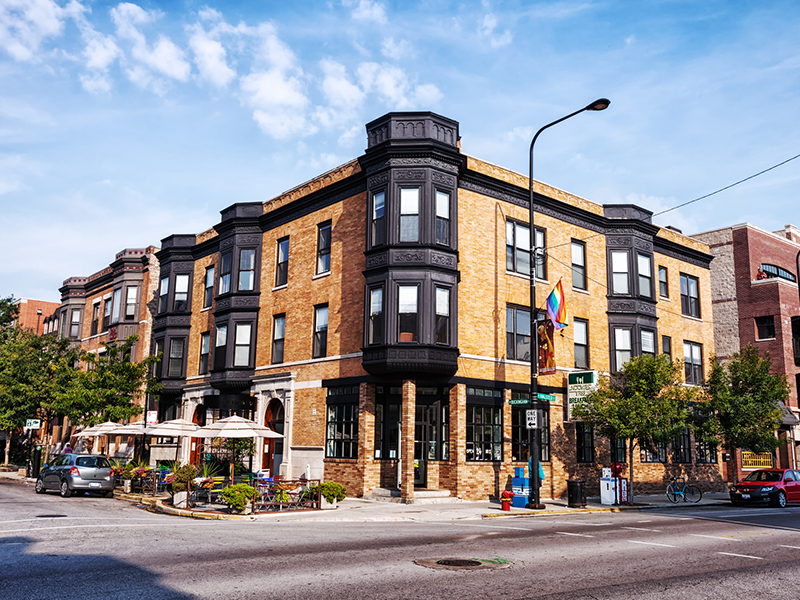 Lakeview (also spelled Lake View) is the quintessential Chicago neighborhood, marrying an amazing array of night spots and restaurants with a picturesque Lake Michigan shoreline. With a large geographic area, a population of over 103,000, and a convenient location just over 6 miles to The Loop, Lakeview exudes high level energy tempered by a laidback waterfront and walkable historic streets.
What to love
Iconic destinations

Lakeview is home to some of Chicago's most famous landmarks and destinations, including the Belmont Theater District, Chicago's largest theater district with over 100 shows playing weekly. The legendary Wrigley Field, the longtime home of the Chicago Cubs, is also found here, along with the historic Music Box Theatre and the highly popular comedy club, Laugh Factory Chicago. Boystown, the first officially recognized gay neighborhood in the US, is also part of Lakeview and is known today for its grand Gay Pride parades and dynamic nightlife.

Numerous bars and restaurants

There's never a shortage of night spots and eateries at Lakeview. Whether you're looking for a Michelin-starred fine dining experience, a casual pizza joint, a craft brewery, or a drinks-and-show tavern, you'll find a plethora of options to choose from.

Relaxing waterfront

Lakeview boasts an inviting waterfront where you can be as laidback or as active as you wish. A prized gem in the neighborhood is Lakefront Trails, an 18-mile paved urban trail along Lake Michigan where visitors can walk, bike, or rollerskate. The trail runs along parks, beaches, and playgrounds, and features amenities for users' comfort.

The Lakeview waterfront also features Belmont Harbor, one of Chicago's largest harbors. Home to the Chicago Yacht Club, Belmont Harbor has over 800 boat slips that can accommodate large watercraft – perfect for boating and yachting enthusiasts.
Real estate snapshot
At the start of 2023, Lakeview is a balanced market with homes for sale staying on the market at an average of 76 days. The median listing price as of January, 2023 was $459,900. Condos make up the majority of the housing stock. Many are new developments but a large number are converted historic brownstones and mansions. There are also quite a few older and new construction homes priced from around $1.5 million to over $2 million.
Learn more about Lakeview and your real estate options here. Call top Chicago Realtor Ann Rossley today at 773.620.5333 or send an email here.

Sorry we are experiencing system issues. Please try again.